Jacksonville Veterinary Staff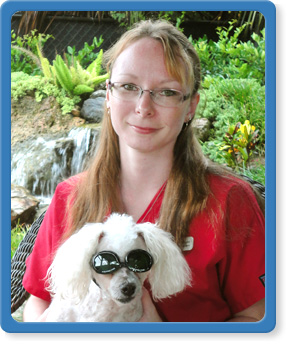 Donnell K. is a Veterinary Nurse/Technician who joined Mandarin Animal Hospital in April 2013. Her responsibilities include administering care and helping the doctor during examinations and monitoring pets during and after surgical procedures. She also assists the veterinarian during laser therapy sessions. Donnell's fun sense of humor and her unique ability to adapt well to every situation make her a staff treasure.
"Dr. Mosley and the staff at Mandarin Animal hospital are amazing," Donnell says. "We have such a wide range of personalities and skills among our team and we complement each other well." Donnell loves seeing clients come in with their puppies/kittens and watching them grow together.
A passionate pet owner herself, Donnell cares for many pets at home- three dogs, one cat, one turtle and six cockatiels (which she occasionally breeds). Her family jokes that collecting pets is a hobby of hers! In her spare time, she enjoys being active with her two children.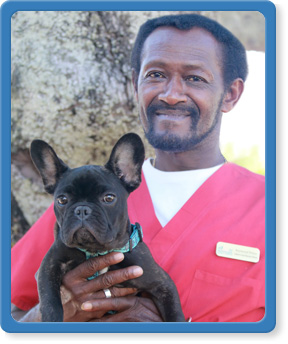 Kennel Assistant Raymond P. has been with Mandarin Animal Hospital since September of 2011, and has been working professionally with animals since 1996. He takes pride in the work he does, and stays focused on "keeping everyone healthy" during their stay at the Hospital.
Ray spends as much of his spare time as possible with his family as well as landscaping and fishing.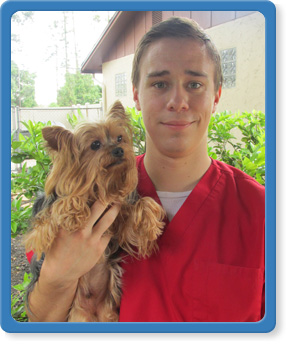 Michael V.O. joined the Mandarin Animal Hospital team in August 2013. As a kennel assistant, his responsibilities include baths, nail trims, and general animal care. Michael is also studying sports medicine at Florida State College in Jacksonville.
In his free time, Michael enjoys running, surfing, soccer, and being outdoors. He has a Labrador named Luna.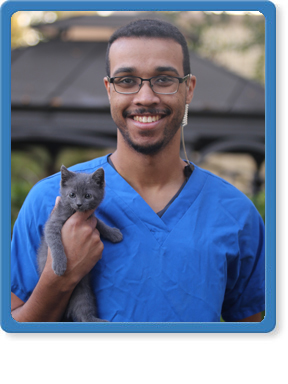 Veterinary Technician Maxwell S. is a full-time team member who joined Mandarin Animal Hospital in August of 2017. He was worked in the animal related field for over 2.5 years, and loves his profession. The aspect of his job that Maxwell enjoys most is being able to educate and relay important information to pet owners. Maxwell is also responsible for assisting in animal care, treatment, and medicinal administration, along with surgical assistance and animal education.
Maxwell is bilingual, being fluent in both Spanish and English. Prior to working with Mandarin Animal Hospital, Maxwell worked as a veterinary technician in Dunnellon from March 2016 to July 2017. He is currently enrolled in Jacksonville University and is working his way towards becoming a veterinarian.
"I'm slowly working towards becoming a veterinarian. I've always loved animal care and educating animals." Maxwell declares. "It has always felt like my calling."
At home, Maxwell enjoys passing the time by playing guitar, swimming, or playing video games. He owns a Tennessee Cur named Gigi, a Puggle named Bernie, and 3 DHS cats.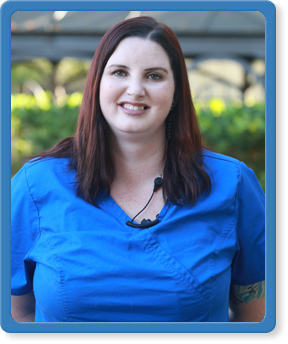 Melissa M. is one of our talented veterinary assistants who began working here full-time at Mandarin Animal Hospital in June of 2017. Prior to her involvement with Mandarin, Melissa worked as a receptionist from 2014 to 2015, and as a veterinary technician from 2015 through 2017 with another hospital.
Melissa's daily responsibilities include caring for the animals we treat, running labs, explaining procedures and tests to clients while answering any questions they might have, and monitoring our hospitalized patients.
The part of her job that Melissa enjoys most is being able to help sick animals. In doing so, Melissa feels she has an opportunity to learn new things every day. She brings with her a bubbly personality each day she comes in through our doors.
"I really like the people I work with the clients and their pets. It's a fun place to work with a great atmosphere," Melissa proclaims. "It's fun getting to work with different animals as well as wildlife."
In her spare time, Melissa likes to bake, cook, read, watching movies, and spend time with her husband and their adorable son. Melissa shares her home with 2 dogs, Bishop and Rook, a turtle named Shelia, a Bearded Dragon named Wade, and a snake known as Loki.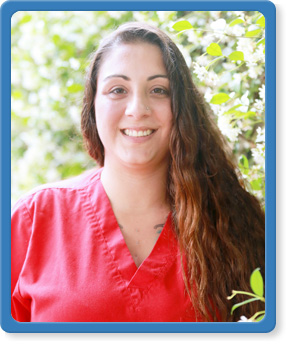 Lanielle S. is a kennel assistant at Mandarin Animal Hospital. She joined the team in March of 2016. Lanielle has a veterinary technician and veterinary assistant certificate from the Pima Medical Institute and six years of experience in the animal care field.
"Everyone here is very helpful and friendly," says Lanielle. "I learn something new every day."
Lanielle has a dachshund named Soco and a Black Mouth Cur mix named Trey. In her free time she enjoys fishing, cooking, going to the beach, watching movies, going to parks with her dogs and rooting for the Dallas Cowboys.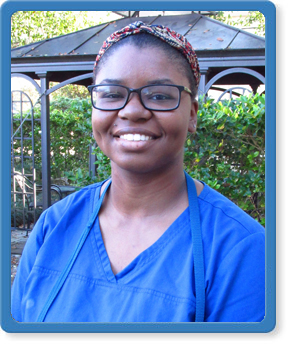 Tori W. is one of our phenomenal Kennel Assistants who works hard each day to ensure a friendly and carring approach to treating the animals that enter our facility. Some of her daily responsibilities include walking, feeding, and cleaning up after our beloved patients. The part of job that Tori likes the most is being involved with the animals, and getting to walk and play with them.
Since joining Mandarin Animal Hospital in April of 2017, Tori has been working full-time to obtain as much experience possible in the veterinary industry. This is her first job in the animal related field, and she aspires to learn as much as she can.
"I like working here at Mandarin Animal Hospital because I feel it is good experience to help learn hands on what I will be doing in the future," Tori proclaims.
Tori is currently attending school in pursuits of becoming a Veterinary Assistant. She has a tabby cat named Chessa, and a German Shepherd named Nahla. While Tori isn't busy at the animal hospital, she can be found working at her other job, or enjoying looking after her pet companions.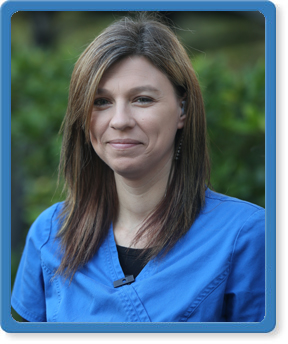 Client Care Coordinator April A. helps provide excellent customer service, orders Hills food, serves as a Petly plan wellness manager, and is the lead receptionist here at Mandarin Animal Hospital. She has been a full-time team member since June of 2016 and has over 7 years of experience in the animal related field.
Interacting with clients and their pets and being able to see sick pets get the treatment they need to get better is what April regards as the most enjoyable part of working for Mandarin. "The staff is willing to help you out if needed" April says. "There is always room to grow here."
At home, April likes to pass the time by gardening, hiking, doing anything outdoors, baking, and spending time with her family. She owns two cats, Jax and Jemma.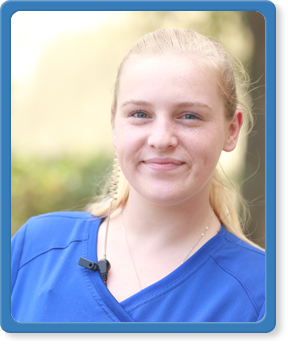 Kennel Technician and Receptionist Grace E. has been working for Mandarin Animal Hospital since January of 2018. Here at Mandarin, Grace helps by answering the phones, scheduling appointments, feeding, bathing, walking, and caring for all of our furry friends. The part of her job Grace enjoys most is getting to know and help all the clients and patients that enter our facility.
"I like working here because there is always room to grow and learn." Grace proclaims. "Also All of my coworkers make me feel like part of the family."
Grace is currently enrolled in FSCJ. She also has prior experience in the animal related field working as a bather, kennel technician, and concierge. At home, she owns a black lab mix named Onyx, who Grace likes to take everywhere she can go. In her spare time, Grace likes to go skating, work out, and taking her dog shopping.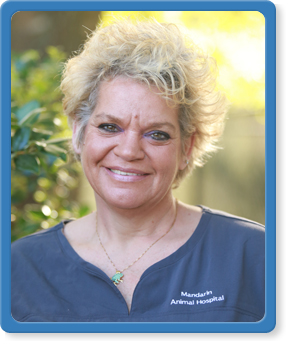 Caring for, handling, and grooming the amazing clients here at Mandarin Animal Hospital is very much a part of Groomer DeAana M.'s daily responsibilities. There's not a part of her job that she enjoys most because she happens to love all of it. DeAana possesses an outstanding 35 years of experience in animal care as a Certified Master Groomer.
DeAana joined our team full time in December of 2017. When asked about working for Mandarin DeAana says, "The techs have been very kind and helpful to me in getting familiar with the shop. Everyone is very kind and compassionate about the pet care and wellbeing of our patients."
In her spare time, DeAana likes to ride horses competitively and partaking in pet competitions. She also enjoys creative grooming, particularly grooming for St. Poodles. For fun, DeAana likes to cook, take pictures, go to the movies, is a football fanatic, and loves to crotchet.