Jacksonville Veterinary Staff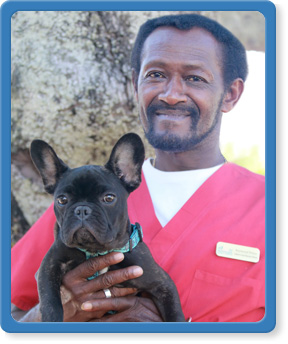 Kennel Assistant Raymond P. has been with Mandarin Animal Hospital since September of 2011, and has been working professionally with animals since 1996. He takes pride in the work he does, and stays focused on "keeping everyone healthy" during their stay at the Hospital.
Ray spends as much of his spare time as possible with his family as well as landscaping and fishing.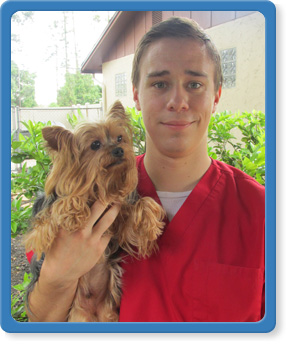 Michael V.O. joined the Mandarin Animal Hospital team in August 2013. As a kennel assistant, his responsibilities include baths, nail trims, and general animal care. Michael is also studying sports medicine at Florida State College in Jacksonville.
In his free time, Michael enjoys running, surfing, soccer, and being outdoors. He has a Labrador named Luna.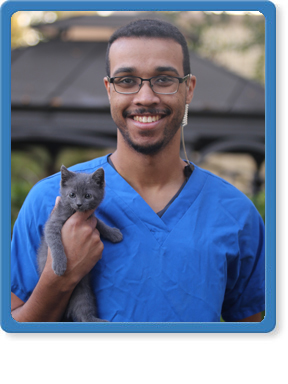 Veterinary Technician Maxwell S. is a full-time team member who joined Mandarin Animal Hospital in August of 2017. He was worked in the animal related field for over 2.5 years, and loves his profession. The aspect of his job that Maxwell enjoys most is being able to educate and relay important information to pet owners. Maxwell is also responsible for assisting in animal care, treatment, and medicinal administration, along with surgical assistance and animal education.
Maxwell is bilingual, being fluent in both Spanish and English. Prior to working with Mandarin Animal Hospital, Maxwell worked as a veterinary technician in Dunnellon from March 2016 to July 2017. He is currently enrolled in Jacksonville University and is working his way towards becoming a veterinarian.
"I'm slowly working towards becoming a veterinarian. I've always loved animal care and educating animals." Maxwell declares. "It has always felt like my calling."
At home, Maxwell enjoys passing the time by playing guitar, swimming, or playing video games. He owns a Tennessee Cur named Gigi, a Puggle named Bernie, and 3 DHS cats.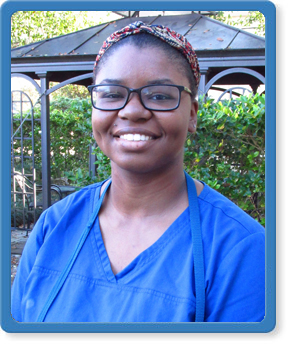 Tori W. is one of our phenomenal Kennel Assistants who works hard each day to ensure a friendly and carring approach to treating the animals that enter our facility. Some of her daily responsibilities include walking, feeding, and cleaning up after our beloved patients. The part of job that Tori likes the most is being involved with the animals, and getting to walk and play with them.
Since joining Mandarin Animal Hospital in April of 2017, Tori has been working full-time to obtain as much experience possible in the veterinary industry. This is her first job in the animal related field, and she aspires to learn as much as she can.
"I like working here at Mandarin Animal Hospital because I feel it is good experience to help learn hands on what I will be doing in the future," Tori proclaims.
Tori is currently attending school in pursuits of becoming a Veterinary Assistant. She has a tabby cat named Chessa, and a German Shepherd named Nahla. While Tori isn't busy at the animal hospital, she can be found working at her other job, or enjoying looking after her pet companions.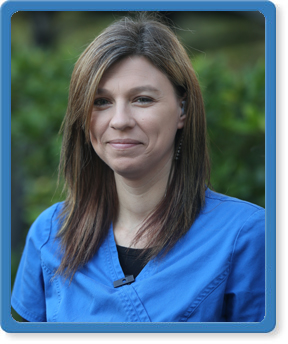 Client Care Coordinator April A. helps provide excellent customer service, orders Hills food, serves as a Petly plan wellness manager, and is the lead receptionist here at Mandarin Animal Hospital. She has been a full-time team member since June of 2016 and has over 7 years of experience in the animal related field.
Interacting with clients and their pets and being able to see sick pets get the treatment they need to get better is what April regards as the most enjoyable part of working for Mandarin. "The staff is willing to help you out if needed" April says. "There is always room to grow here."
At home, April likes to pass the time by gardening, hiking, doing anything outdoors, baking, and spending time with her family. She owns two cats, Jax and Jemma.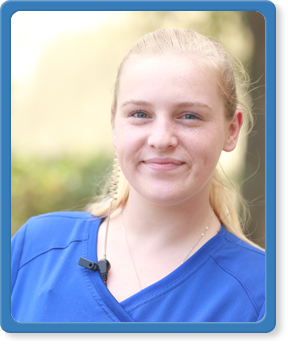 Kennel Technician and Receptionist Grace E. has been working for Mandarin Animal Hospital since January of 2018. Here at Mandarin, Grace helps by answering the phones, scheduling appointments, feeding, bathing, walking, and caring for all of our furry friends. The part of her job Grace enjoys most is getting to know and help all the clients and patients that enter our facility.
"I like working here because there is always room to grow and learn." Grace proclaims. "Also All of my coworkers make me feel like part of the family."
Grace is currently enrolled in FSCJ. She also has prior experience in the animal related field working as a bather, kennel technician, and concierge. At home, she owns a black lab mix named Onyx, who Grace likes to take everywhere she can go. In her spare time, Grace likes to go skating, work out, and taking her dog shopping.