South Jacksonville, FL Veterinarians
James L. Mosley, Jr., DVM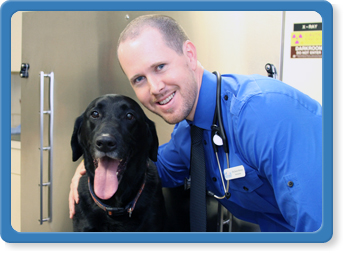 A Jacksonville native, our veterinarian, Dr. James L. Mosley, Jr. is a General Practitioner and Owner of Mandarin Animal Hospital. He has worked at the Hospital in one capacity or another since June of 1996.
Early Inspirations and Experience
When asked who inspired him to become a veterinarian, Dr. Mosley says, "My mentor Dr. Robert Gordon, Jr., from whom I purchased the practice was a huge motivator. I first met him when I was 6-years-old when he graduated from the University of Missouri with his Doctorate of Veterinary Medicine degree. He began providing equine services at my dad's small ranch north of Jacksonville and from that moment forward I followed him around in amazement of the things he was doing. At the age of 16, I began working at his small animal practice at all levels."
Beyond his experience with Dr. Gordon, Dr. Mosley grew up taking care of horses, donkeys, rabbits and a menagerie of other farm animals as well as participating in barrel racing, roping, and other riding related events. He was also a member of 4-H and showed his rabbits and horses at various fairs and events.
Education
For his undergraduate studies Dr. Mosley attended the University of North Florida where he earned a Bachelor of Science in Biology in 2002. In 2004, he enrolled in the University of Florida's College of Veterinary Medicine and earned his Doctorate of Veterinary Medicine in 2008. During his time in veterinary school he earned a number of honors, which includes membership in Phi Zeta Society, Elsevier Small Animal Surgery Award (judged by the faculty to have the best psychomotor skills in small animal surgery), the Clarence and Lucille Dee Scholarship, and graduated Magna Cum Laude.
Professional Interests and Associations
Dr. Mosley's areas of particular professional interest include surgery, dentistry, dermatology and internal medicine. He also holds USDA accreditation in for the issuance of health certificates and credentialed by Vet-Stem in Regenerative Veterinary Medicine.
Now that he is a practicing veterinarian, Dr. Mosley says, "The satisfaction of preventing disease and healing sick patients whose care people have entrusted to me is very rewarding. There is no greater satisfaction than seeing the reaction of a client whose pet is recovering from a successful surgery or illness."
Personal Interests
Dr. Mosley is married to Dr. Tiffany Mosley—a small animal veterinarian—and says, "We met at and graduated together from veterinary school and it is great to share a marriage, family and profession together. She is an amazing wife, mother and colleague." The couple has a daughter named Keeley Reese Mosley, born on June 11, 2010, and a son named Clayton James Mosley, born on October 18, 2011.
At home, Dr. Mosley has a Chihuahua named Alli, two Labrador Retrievers, Si and Josie, and three cats named Tater, Pistol and Sadie. His interests include basketball, working out, inshore and offshore fishing and horseback riding.
Tiffany Mosley, DVM, CVA
Dr. Tiffany Mosley has been a relief veterinarian in the Greater Jacksonville area since 2010 and joined our team full time in October 2014.
Early Inspirations and Experience
While growing up in Titusville, FL, Dr. Mosley was always bringing injured animals home to help nurse them back to health. "My mom was always very understanding and supportive as long as I promised I wouldn't lose the animals in the house," she recalls.
It is that same drive to care for animals that continues to motivate Dr. Mosley in her career. "I enjoy helping people make their furry kids feel better, and being an integral part of that 'first puppy/kitten visit'," Dr. Mosley says. "We really are pediatricians for furry babies that cannot communicate how they feel, so it's amazing to be able to solve the puzzle and fix the problem. I also find satisfaction in exploring new facets of veterinary medicine and continually learning so I can offer my clients the best recommendations possible."
Education
Prior to applying to veterinary school, Dr. Mosley participated in a four-month research project focused on tagging sea turtles and marking their nests and worked as a zookeeper. Dr. Mosley earned her Bachelor's Degree in Biology from the University of Central Florida, where she was a member of the Golden Key Society. She went on to earn her Doctorate of Veterinary Medicine from the University of Florida College of Veterinary Medicine.
Professional Interests and Associations
A member of the Jacksonville Veterinary Medical Society, the Florida Veterinary Medical Association, the American Veterinary Medical Association, the American Heartworm Society, the American Association of Feline Practitioners and the American Animal Hospital Association, Dr. Mosley's professional interests include dermatology, acupuncture, herbal medicine and internal medicine. She is certified in veterinary acupuncture and has her USDA accreditation.
Personal Interests
Outside work, Dr. Mosley shares her life with her husband Dr. James Mosley, their daughter, Keeley Reese, and son, Clayton James. The family cares for six pets: Alli, a Chihuahua; Si and Josie, Labrador Retrievers; and Tater, Pistol and Sadie, all cats. In her free time, she enjoys relaxing with friends and family, watching college football (particularly the FL Gators!!), going to the beach, or exploring new things to do in the community.