Jacksonville Veterinary Staff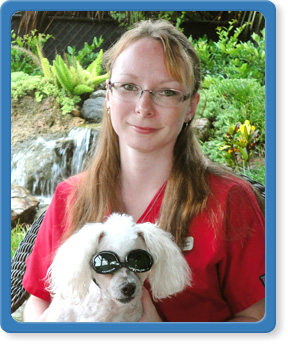 Donnell Knight is a Veterinary Nurse/Technician who joined Mandarin Animal Hospital in April 2013. Her responsibilities include administering care and helping the doctor during examinations and monitoring pets during and after surgical procedures. She also assists the veterinarian during laser therapy sessions. Donnell's fun sense of humor and her unique ability to adapt well to every situation make her a staff treasure.
"Dr. Mosley and the staff at Mandarin Animal hospital are amazing," Donnell says. "We have such a wide range of personalities and skills among our team and we complement each other well." Donnell loves seeing clients come in with their puppies/kittens and watching them grow together.
A passionate pet owner herself, Donnell cares for many pets at home- three dogs, one cat, one turtle and six cockatiels (which she occasionally breeds). Her family jokes that collecting pets is a hobby of hers! In her spare time, she enjoys being active with her two children.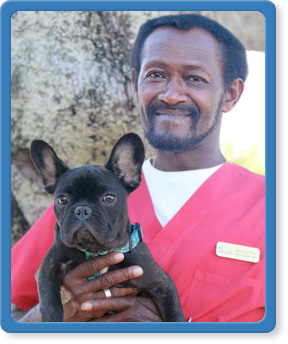 Kennel Assistant Raymond Prince has been with Mandarin Animal Hospital since September of 2011, and has been working professionally with animals since 1996. He takes pride in the work he does, and stays focused on "keeping everyone healthy" during their stay at the Hospital.
Ray spends as much of his spare time as possible with his family as well as landscaping and fishing.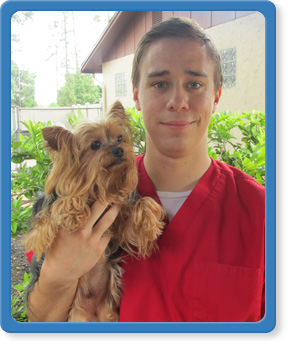 Michael Van Ohlen joined the Mandarin Animal Hospital team in August 2013. As a kennel assistant, his responsibilities include baths, nail trims, and general animal care. Michael is also studying sports medicine at Florida State College in Jacksonville.
In his free time, Michael enjoys running, surfing, soccer, and being outdoors. He has a Labrador named Luna.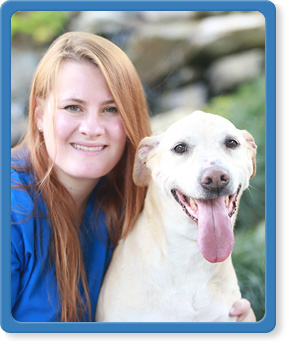 Caryn Clark has been a veterinary technician at Mandarin Animal Hospital since December of 2014. Her job responsibilities include assisting in animal care and treatment, as well as assisting in maintaining our in-house computer network. Her favorite part of her position is seeing animals go home happy and healthy. Caryn has her Associate's degree.
"I enjoy working with animals and being given an opportunity to learn and grow within the field," Caryn says.
At home, Caryn cares for several pets, including two dogs named Bailey and Clyde and two cats named Nash and Oliver. In her free time, Caryn enjoys photography, fishing ("And more fishing - and more fishing!" she says), and looking for shark teeth.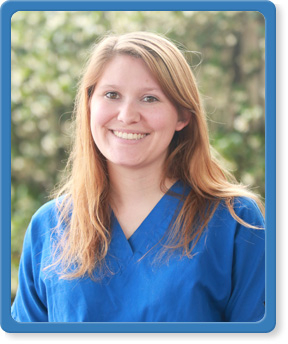 Chloe Risher is a client care coordinator at Mandarin Animal Hospital. Her job responsibilities include client communication, checking out clients, and scheduling appointments, but her favorite part of the job is meeting new patients that visit our clinic.
"I love working here because all my coworkers care just as much as I do, and we all do our best for all the animals we see," Chloe says.
At home, Chloe cares for a wide variety of pets, including a dog, a cat, a chameleon, a veiled chameleon, a ball python and a Kenyan sand boa. In her free time she enjoys reading, swimming, and fishing.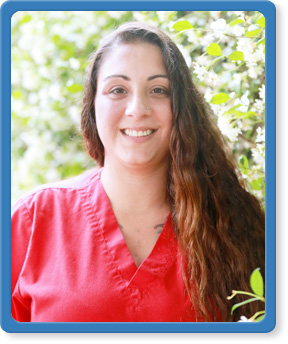 Lanielle Salinas is a kennel assistant at Mandarin Animal Hospital. She joined the team in March of 2016. Lanielle has a veterinary technician and veterinary assistant certificate from the Pima Medical Institute and six years of experience in the animal care field.
"Everyone here is very helpful and friendly," says Lanielle. "I learn something new every day."
Lanielle has a dachshund named Soco and a Black Mouth Cur mix named Trey. In her free time she enjoys fishing, cooking, going to the beach, watching movies, going to parks with her dogs and rooting for the Dallas Cowboys.